Beetroot Cake with Avocado Icing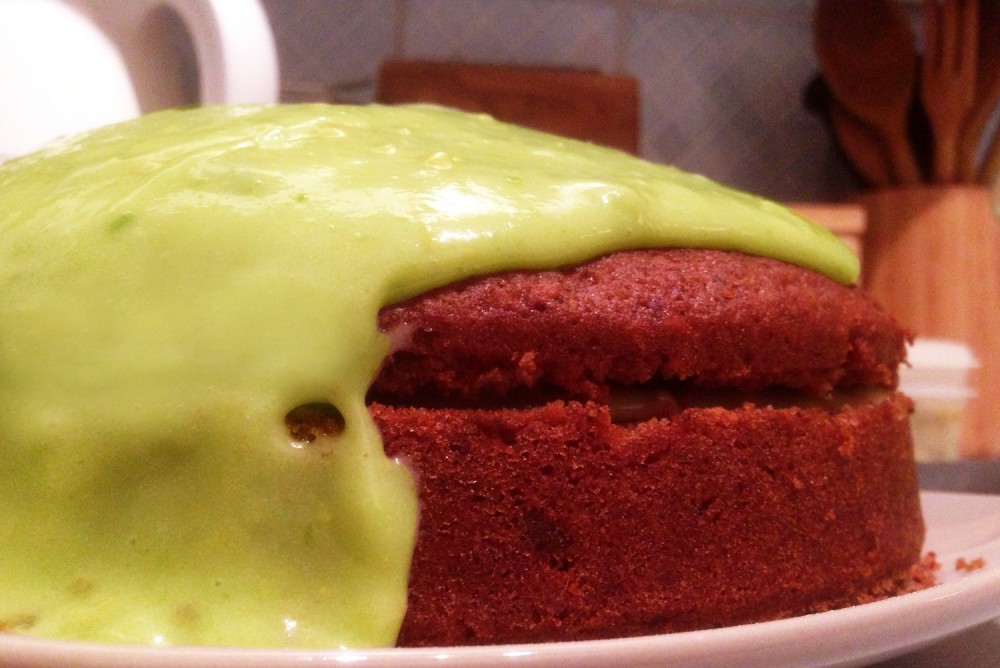 I used to work part-time in a bar as the head chef, and it was quiet enough during the day to experiment with all manner of exotic sounding cakes and I once made a beetroot chocolate cake, which was delicious. This got me thinking about whether or not you could make nice cakes out of other vegetables, and I began to hunt around and make various different cakes. The best recipe of all, and actually my favourite cake recipe full stop, was this recipe for Beetroot Cake by Nigel Slater, which I found when looking through the ever-glorious BBC Good Food site. I used a different recipe for the icing though, and being that I had a glutinous amount of Avocados in the fridge I thought why not try something a little different!
Why not try baking your own beetroot cake with avocado icing using the easy recipe below?
---
Ingredients
For the Beetroot Cake
Butter or oil, for greasing
225g (8oz) self-raising flour
Half a teaspoon bicarbonate of soda
A level teaspoon of baking powder
Half a teaspoon of ground cinnamon
180ml (6¼fl oz) sunflower oil
225g (8oz) light muscovado sugar
3 free-range eggs, separated
150g (5oz) raw beetroot, peeled
Juice of half a lemon
75g (3oz) sultanas or raisins
75g (3oz) mixed seeds (such as sunflower, pumpkin and linseed)
For the avocado icing
200g (7oz) icing sugar
1 avocado, chopped and peeled
2 tbsp cream cheese (such as Philadelphia)
---
Method:
To make this beetroot cake with avocado icing, preheat the oven at 180°C/350°F/Gas Mark 4. Lightly grease a rectangular loaf tin (20cm x 9cm x 7cm/8in x 4in x 3in), then line the base with baking parchment.
Sift together the flour, bicarbonate of soda, baking powder and cinnamon. Beat the oil and sugar in a food mixer until well combined, then introduce the egg yolks one by one, mixing after you add each egg yolk. Grate the beetroot coarsely and fold it into the egg mixture, then add the lemon juice, sultanas (or raisins) and the assorted seeds. Pulse until combined.
Fold the flour and raising agents into the egg mixture whilst the machine is on a slow setting.
Beat the egg whites until light and almost stiff. Fold gently but thoroughly into the cake mixture, using a large metal spoon (a wooden one will knock the air out). Pour the mixture into the cake tin and bake for 50-55 minutes, covering the top with a piece of foil after thirty minutes. Test with a skewer to see if it's ready. The cake should be moist inside but not sticky. Leave the cake to settle for a good twenty minutes before turning out of its tin onto a wire cooling rack.
I have also experimented with the recipe for this beetroot cake with avocado icing by doubling the recipe to fill up a round cake tin. Once the cake was cooked and cooled I cut it in half and used some of the extra icing to fill in the middle. I then used the back of a spoon to smooth the icing over the beetroot cake.