Blueberry Soured Cream Cake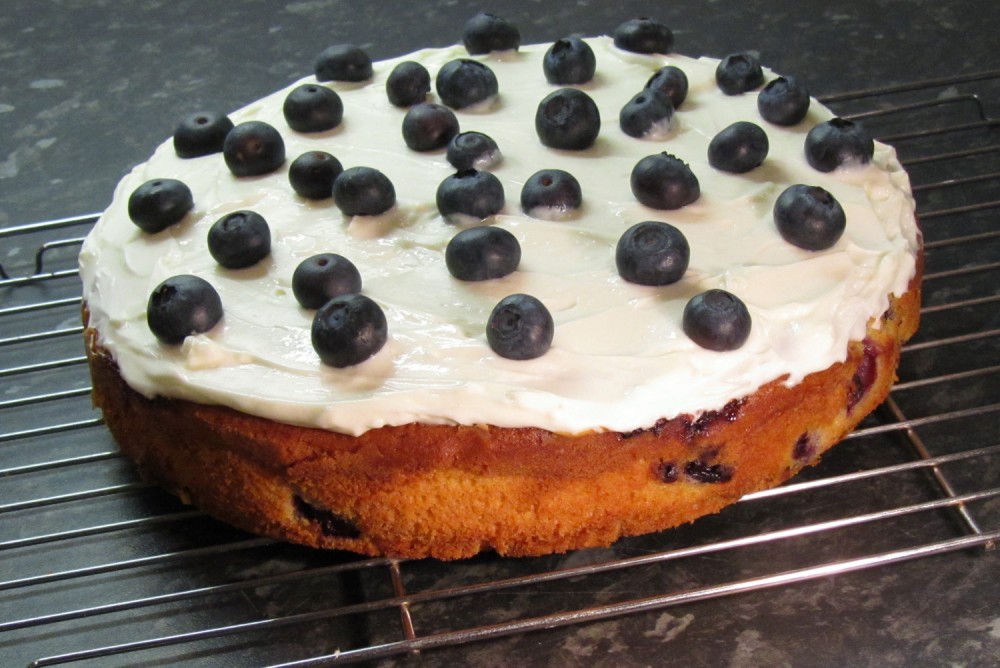 Apparently blueberries bake really well in cakes, as their purple skins keep in their juicy centre, or so my cake book tells me. I wasn't entirely convinced of that so this Blueberry Soured Cream Cake Recipe sounded like just the thing to test the theory!
Joyously, the theory stood up to the execution and after taking it out of the oven and covering it with the soured cream icing, I was left with an absolutely delightful and very moreish blueberry soured cream cake that was also surprisingly simple to make. I scattered some extra blueberries over the top of the cake as it helps to make it really stand out and the blueberries also provide a lovely contrast to the firm sponge.
Why not try baking your own blueberry soured cream cake? It's easy to make and it looks really good once it's decorated with some extra blueberries.
---
Ingredients
For the Blueberry Soured Cream Cake
175g (6.2oz) unsalted butter, softened
175g (6.2oz) golden caster sugar
3 large eggs
225g (8oz) self-raising flour
1tsp baking powder
2tsp vanilla extract
142ml carton soured cream
375g of blueberries
For the topping
200g (8oz) tub soft cheese (such as Philadelphia)
100g (4oz) icing sugar
---
Method:
To make this blueberry soured cream cake, preheat the oven to 180°C/Gas 4/fan oven 160°C. Butter and line a 23cm/9in round cake tin. Get a large mixing bowl and put the butter, sugar, eggs, flour, baking powder and vanilla into it and then beat until smooth. Beat in 4 tablespoons of the soured cream, then stir in half of the blueberries.
Pour the mixture into the tin and level it out with a knife or the back of a wooden spoon. Bake for 50 minutes, or until it feels firm to the touch and springs back when lightly pressed. Cool in the tin for about 10 minutes, then take out of the tin and peel of the paper. Leave to finish cooling on a wire rack.
Put the soft cheese into a mixing bowl and beat in the icing sugar until smooth and creamy. Spread over the top of the cooled blueberry soured cream cake and then scatter the remaining blueberries over the top. Remember to keep this cake in the fridge if you're not going to eat it all in one go as the cream can easily go off if left to get warm.