Cherry and Marzipan Cake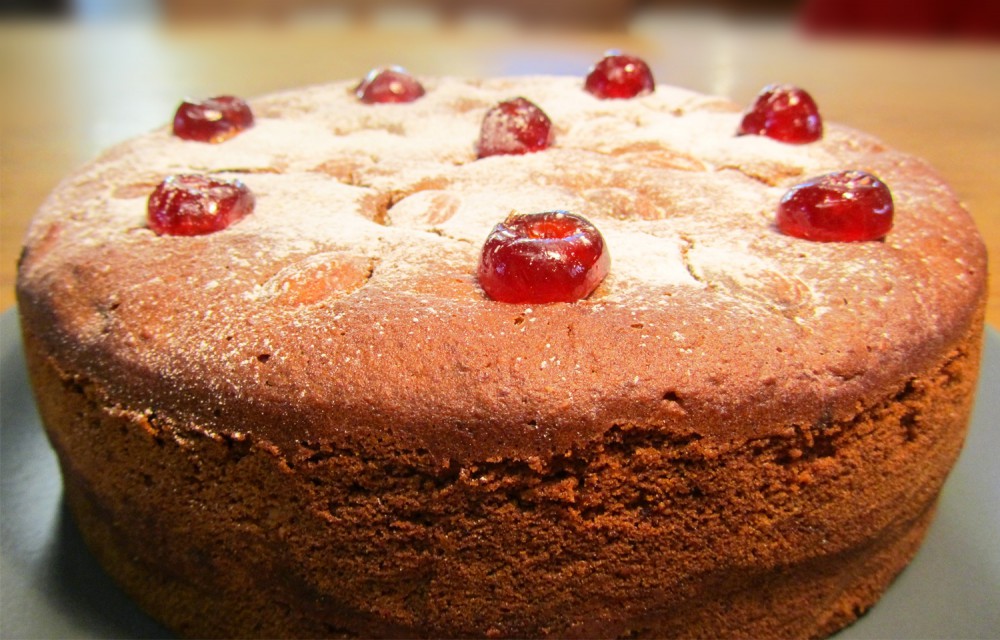 Hello y'all, as this is cake number 7, I'm now officially over the halfway marker with this 12 cakes project and I'm pleased to say that so far, I've managed to avoid any major disasters…the kitchen hasn't been set on fire (yet) and none of the cakes have been turned into charcoal which I consider a resounding success!
I'd like to start this month's cake entry with a small confession: I love marzipan, and when I say love, I mean, I really, really, really love marzipan. If it was up to me, I'd have probably just stuck some cherries into a block of marzipan and not bothered about the rest of the ingredients…and even the cherries would be optional! I'm glad I didn't forgo making this Cherry and Marzipan cake the proper way though as it has probably been my favourite cake of the ones I've made so far.
This Cherry and Marzipan cake recipe is quite easy to make, it has plenty of chopped cherries scattered throughout and a delicious layer of marzipan in the middle which melts into the sponge as you cook the cake, making it ever so slightly moist and sweet. A generous slice of this cake wouldn't be out of place at any special occasion, but personally I like putting my feet up and having it with a lovely cup of coffee!
---
Cherry and Marzipan Cake Recipe Ingredients
200g butter, softened
200g caster sugar
4 eggs, beaten
200g self-raising flour
200g glace cherries, chopped
100g ground almonds
2-3 drops almond extract
250g marzipan
50g almonds
Icing sugar, for dusting
---
Method:
Preheat the oven to 160C/Gas 3/Fan oven 140°C. Butter and line a deep 20cm/8in round cake tin. Beat the butter and sugar in a bowl until light and creamy. Pour in the eggs a little at a time and beat well after each addition. Mix in the flour one third at a time, this is partly to make sure the flour gets completely mixed in and also to help stop it exploding in a huge 'atomic cloud like' explosion….I speak from previous experience on that part!
Fold in the cherries, ground almonds and almond extract until evenly mixed. Spoon half the mixture into the tin.
Roll out the marzipan to a 19cm/7½in circle. Don't worry if you roll it out slightly larger than this, as I always have to trim it a bit to get it to fit in a circular tin! Lay the trimmed marzipan on top of the cake mixture in the tin, then cover with the rest of the mixture. Level, and scatter the almonds on top, or place them in a fancy pattern like mine if you're so inclined. I also added a few leftover cherries too, but this is completely optional.
Bake for 1½ hours, or until a skewer inserted comes out clean, covering with foil after 1 hour. Leave to cool in the tin for 20 minutes, then turn out on to a wire rack and cool completely. Dust with icing sugar and then sit back and enjoy this Cherry and Marzipan Cake as much as I did!