Chocolate Orange Cake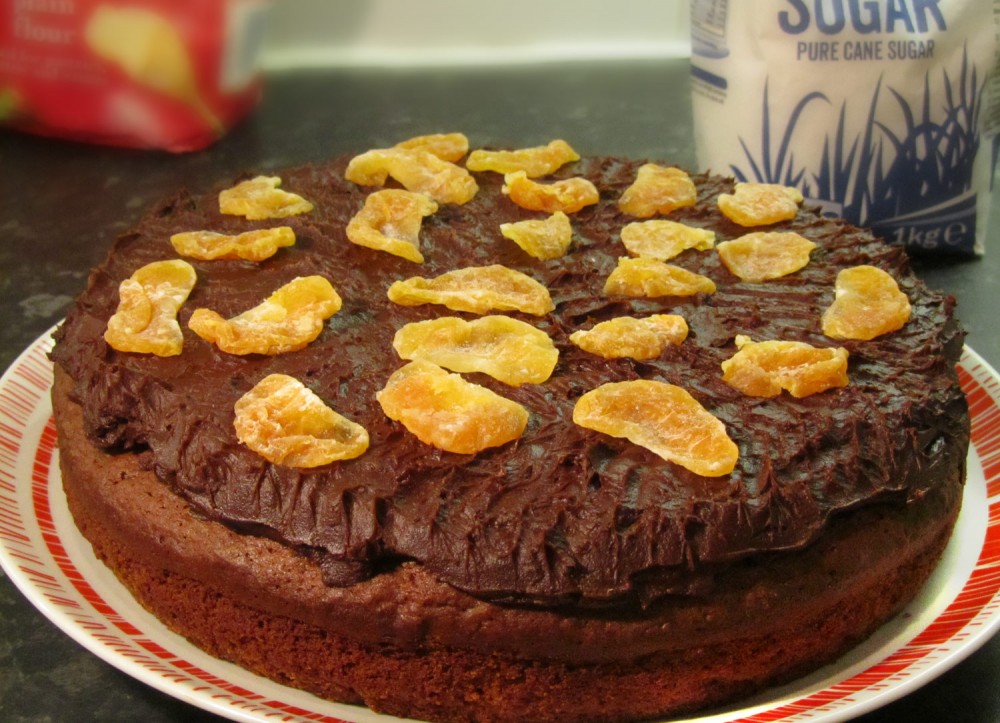 Chocolate orange cake is a nice alternative to making a Christmas cake, and it doesn't require days of fruit soaking either, which means it's easy enough to make if you're running short of time!
I can't quite believe it, but this post on 12cakes.com means that the project has now been going for 24 months, and now has 26 cakes for everyone to see! I thought it was a slightly crazy project to attempt when I started it two years ago, and I doubted it would make it through one year, let alone two, so I'm really happy that people have kept showing interest in the site, and I really hope it's been of help to some of you! I won't be continuing with the project next year, so while I'm not totally ruling out bringing the project back one day, for now, this is the last cake that's going on the site! I really hope you enjoy it, and thanks again for being an amazingly supportive audience!
I love eating chocolate oranges at Christmas time, and while trying to decide what to make for this years special 13th cake, I stumbled on a chocolate orange cupcakes recipe from the hummingbird bakery. I was initially going to go with that, but decided I'd prefer to make a full sized cake, so here we have the recipe for a festive chocolate orange cake!
If you'd like to have a go baking your own chocolate orange cake, feel free to give this one a try!
---
Cooking Time:
30/40 Minutes
Chocolate Orange Cake Ingredients
For the chocolate orange cake
1 Seville orange
100g plain chocolate, broken into pieces
3 free-range eggs
200g caster sugar
80g soft brown sugar
240ml sunflower oil
25g cocoa powder
250g plain flour
1½ tsp baking powder
Orange candied peel, to decorate
For the chocolate ganache
225g plain chocolate, broken into pieces
200ml double cream
---
Method:
To make this chocolate orange cake, grease and line the base of a 23cm/9in round springform cake tin.
Leave the skin of the orange on, and pierce it with a skewer (right through). Cook the pierced orange in boiling water for 30 minutes until soft. Whizz the whole orange in a food processor until smooth; let it cool.
Preheat the oven to 180°C/fan 160°C/gas 4. Melt the chocolate in a heatproof bowl set over a pan of simmering water or in the microwave for 2 minutes on High, stirring after 1 minute. Let it cool.
In a large bowl, lightly beat the eggs, sugar and oil. Gradually beat in the puréed orange, discarding any pips, then stir in the cooled melted chocolate. Sift in the cocoa, flour and baking powder. Mix well and pour into the tin. Bake in the centre of the oven for between 30 and 40 minutes, or until the cake springs back when lightly pressed in the middle. (I found that this cake could dry out easily, so check it after 20 minutes and cover with foil if it looks like it's browning too much.) Allow to stand for 10 minutes in the cake tin, then turn it out on to a wire rack to cool completely.
To make the chocolate ganache: put the chocolate into a heatproof bowl. Bring the cream to the boil and pour over the chocolate. Leave for around 2 minutes, then stir until smooth. Set aside until firm enough to spread over the cake – which can take up to 1½ hours.
Transfer the cooled chocolate orange cake on to a serving plate. Using a palette knife, swirl the ganache over the top. Decorate with strips of candied orange peel, and then sit back and enjoy a big slice with a mug of delicious coffee!