Coconut Ring Cake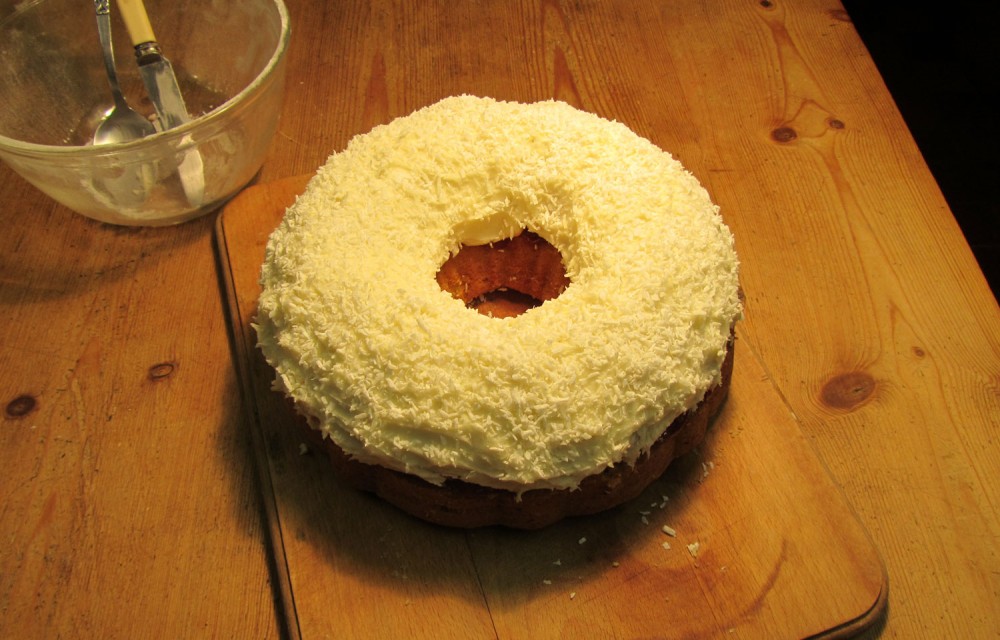 I received a ring cake tin for my birthday last month and have been determined to use it ever since. The problem is that it's a 10 inch tin and most of the cake recipes I have are only suitable for 8 or 9 inch tins. I got round this problem by choosing a normal recipe for a coconut cake that I'd been meaning to try for a while and converting it to work for my sized tin.
The original recipe comes from the Good Food Cakes & Bakes book and it's designed for cooking in two 8 inch sandwich tins like a regular sponge cake. For making my coconut ring cake I upped the ingredients proportionally and also increased the cooking time as the original was allowing for the cake mixture to be divided into two whereas my mix was all going in the same tin.
I was slightly nervous abut how this might affect the cake as I'd never done such a large change to a cake recipe before but luckily it all worked out fine and I was left with a lovely-looking golden sponge coconut ring cake that was finished off by covering with coconut flavoured buttercream icing and sprinkled with some desiccated coconut! Yum!
---
Ingredients
For the Sponge
230g butter, softened
230g golden caster sugar
230g self-raising flour
2 tsp baking powder
4 eggs, beaten
75g desiccated coconut
3 tbsp coconut cream (can use single cream instead, but coconut cream will give a better taste in this cake)
For the Buttercream filling and Topping
300g icing sugar
100g unsalted butter, softened
4 tbsp coconut cream
6 tbsp strawberry jam (or try lemon curd for a different flavour)
---
Method:
Preheat the oven to 320°F/160°C. Grease a 10 inch (25 cm) round ring tin. Due to the awkward shape of this style of tin it is almost impossible to line it with greaseproof paper so make sure you grease it well!
Mix the butter, sugar, flour, baking powder and eggs in a food mixer for 2-4 minutes until smooth. Gently stir in the coconut and the cream.
Pour the coconut cake mixture into the round ring tin and smooth the top. Bake for around 45 minutes until the cake is golden and firm on top. Loosen the edges and leave in the tin for about 10 minutes, then turn out on to a wire rack to cool.
To make the coconut buttercream topping, beat together the icing sugar, butter and coconut cream until smooth.
If you want to add a filling to the cake like I did then you'll need to slice the cake in half. I find that using a cake cutting wire is the best way to do this. Once you've done that, spread the jam onto the bottom half. Top with just under half the coconut buttercream and then place the top half of the cake back on top.
Spread the remaning coconut buttercream over the top of the cake and down the sides. As a last little touch I sprinkled a little bit of desiccated coconut over the buttercream to give it a really great finish.