Coffee and Walnut Cake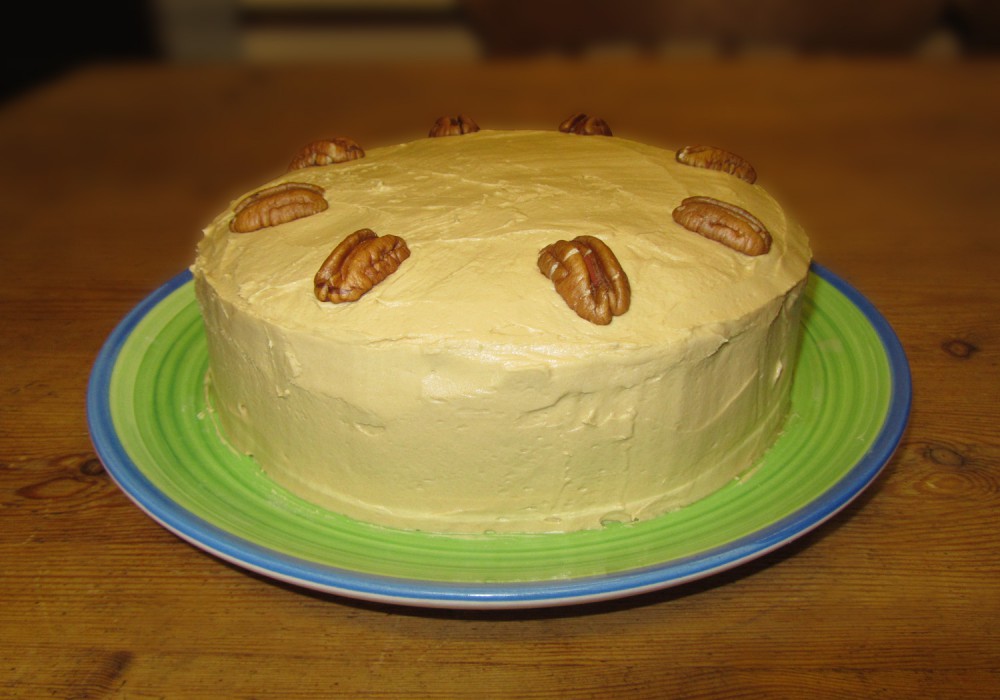 So, here we are, the second of the 12 cakes and perhaps somewhat unsurprisingly it involves Coffee! Designers and web folk are well-known for using coffee in abundance and it's a stereotype that I fit into almost perfectly. I'm never too far from a good supply of caffeine, so combining this with the luxury indulgence that is cake seemed like an almost inevitable conclusion for me.
Despite me not being the best decorator of cakes, I was quite pleased with how this Coffee and Walnut cake turned out. It's unashamedly rich and delicious with a nice dark inner colour with small pieces of walnut mixed throughout, topped with my special very, very strong espresso-infused butter cream, that's guaranteed to keep you awake for days if you so much as sniff it! I found that an easy way to keep everyone happy was to make sure I served them up a traditionally large slice. Mine certainly didn't stay around too long and there wasn't any complaints so I'm chalking it up as a second cake of success! If you're interested in making your own, check out the coffee and walnut cake recipe below.
---
Ingredients
225g. butter
225g. caster sugar
3 large eggs, beaten
225g. self-raising flour
30ml. coffee essence
75g. walnuts, chopped
1 quantity coffee buttercream
---
Method:
Grease a 20cm./8 in. round cake tin and line with greased greaseproof paper.
Cream the butter and sugar together until pale and fluffy. Add the eggs, the equivalent of one at a time, beating well. Fold in the flour and add the (extra strong) coffee essence and walnuts.
Turn the mixture into the prepared tin, and bake in a moderate oven (180°C/350°F or Gas Mark 4) for 45 minutes or until well risen and the cake springs back when lightly pressed.
Leave in the tin for 5 minutes, then turn out onto a wire rack to cool and remove the greaseproof paper.
When cold, coat with coffee buttercream.