Mini Summer Fruit Cheesecakes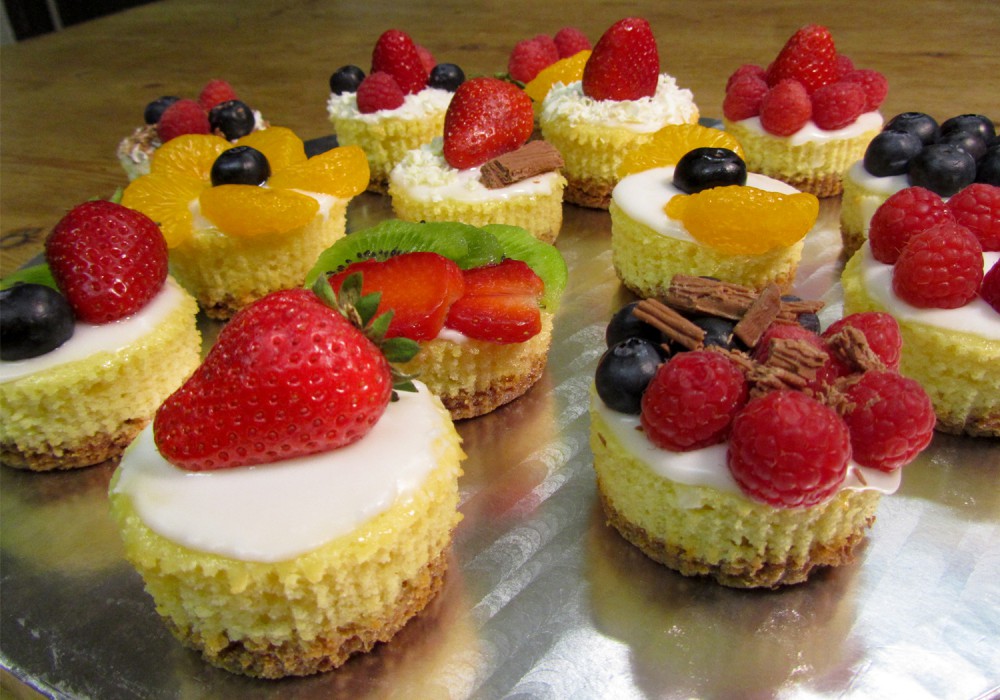 As I live in the UK, I've become accustomed to living in a country that does not have the greatest weather, in fact, it's not uncommon for British summers to be over before you realise they've begun! However once in a while the clouds part and the sun shines through long enough for a consistent supply of sunshine to tan burn me to a crisp. Apart from the cooking of my own skin, the sunny weather also gives me a chance to try out some good summertime cakes.
For me, the core requirements for a good summertime cake is one that is fresh and cooling. Just because the weather might have warmed up, doesn't mean cake can't be on the menu – if you avoid rich and heavy fruitcakes and instead choose something light and moist, with a helping of seasonal summery fruit that once baked can be left in the fridge overnight and served chilled, you won't be far off the perfect summer cake that's able to take the heat out of a hot and sticky day!
One such recipe is these mini summer fruit cheesecakes as they fit all of the aforementioned requirements and look lovely too! The only word of warning I would give to anyone wishing to try making some, is that using multiple toppings is not the cheapest of options, so if you're baking on a budget, I'd recommend choosing one or two toppings and sticking with them as these mini cheesecakes will still taste lovely whatever you choose to put on top of them.
---
Ingredients
60g butter
125g digestive biscuits, crushed
85g caster sugar
275g full fat soft cream cheese
2 large eggs
125ml soured cream or plain yogurt
35g plain flour
For the Topping and Decoration
A combination of summer fruits such as:
Raspberries
Blueberries
Kiwi
Strawberries
---
Method:
Preheat the oven to 160°C/325°F/Gas Mark 3. Line a 12-hole muffin tin with 12 paper cases. Place the butter in a saucepan and heat gently until melted. Remove from the heat then add the crushed biscuits and 1 tablespoon of the sugar and mix well. Divide the biscuit mixture among the paper cases and press down firmly with the back of a teaspoon. Chill in the refrigerator.
Meanwhile, place the remaining sugar, cream cheese and eggs in a large bowl and beat together until smooth. Add the soured cream and beat into the existing mixture until both are well combined. Add the flour and beat well. Spoon the mixture into the paper cases.
Bake in the preheated oven for 30 minutes, or until set but not browned. Leave the mini summer fruit cheesecakes to cool for 20 minutes, then move them onto a wire rack to finish cooling. When the mini cheesecakes are cold, chill in the refrigerator for at least 3 hours.
For the toppings, I added a tiny amount of basic icing sugar to the tops of the mini cheesecakes to give the summer fruits something to stick to. I recommend using any combination of summer fruits such as Raspberries, Blueberries, Kiwi and Strawberries. I've not tried it, but I would also suggest that banana would probably be a good topping. If you've got a bit of a sweet-tooth then you can mix things up a little by grating a bar of white chocolate onto the mini cheesecakes before adding the summer fruits. White chocolate and Strawberry is a match made in heaven!