Neapolitan Cake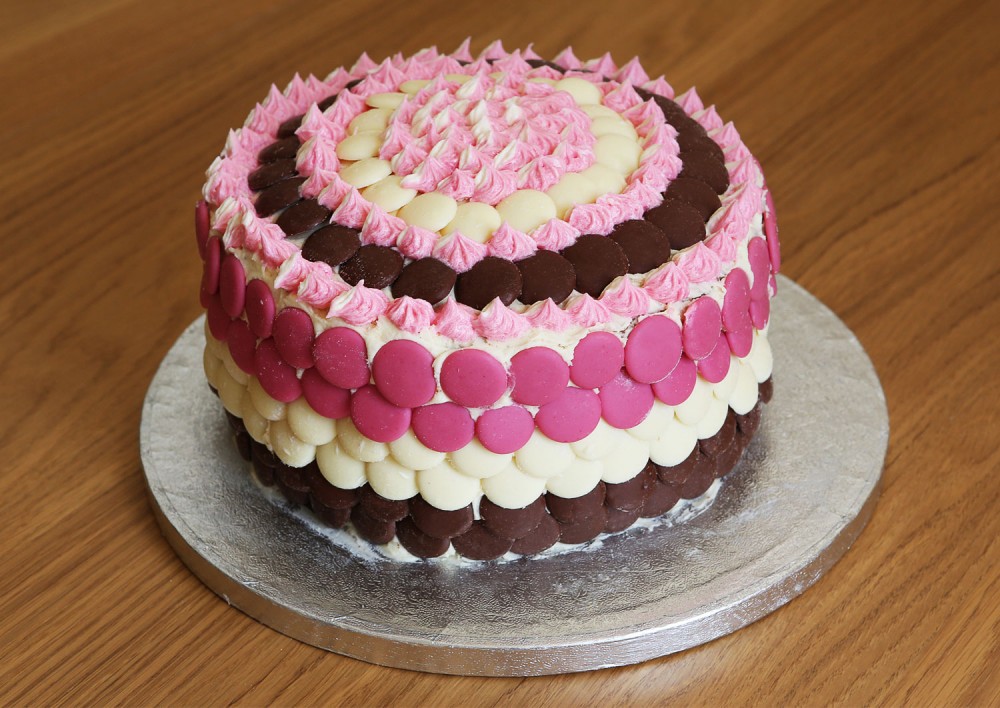 I wanted to make a "Summer" inspired cake to bring us back the idea of sunshine and long lazy days on the beach, especially now that Autumn is well and truly here. I love to make colourful cakes that are "a little bit different", so I thought what better than a tribute to the famous Neapolitan ice cream? This three-tiered neapolitan cake has quite a lot of steps, but don't worry, it's very simple to make. Bring together the flavours of strawberry, vanilla and chocolate in one delicious, colourful cake!
The chocolate cake recipe is my mum's recipe that's been used ever since I can remember for family birthday cakes. The strawberry/vanilla recipe is adapted from a cupcake recipe in The Hummingbird Bakery's "Home Sweet Home" cookbook.
Photos very kindly taken by my dad in exchange for several (rather large!) slices…
Why not try baking your own neapolitan cake using the recipe below?
---
Neapolitan Cake Ingredients
For the strawberry/vanilla layers
75g (2.5oz) unsalted butter, softened
210g (7.5oz) plain flour
255g (9oz) caster sugar
1 tbsp baking powder
&fract12; tsp salt
220ml (7.5fl oz) whole milk
2 large eggs
30g (1oz) strawberry milkshake powder
Pink food colouring
2-3 tsp vanilla extract
For the chocolate layer
100g (3.5oz) plain flour
1.5 tbsp cocoa powder
&fract12; tsp baking powder
&fract12; tsp bicarbonate of soda
75g (2.5oz) caster sugar
1 tbsp black treacle
1 egg
75ml (2.5fl oz) sunflower oil
75ml (2.5fl oz) milk (whole or semi-skimmed)
For the neapolitan decoration
1 x 250g block of unsalted butter
400g (12-16oz) icing sugar
Pink food colouring (optional)
70-100g (3.5oz) milk chocolate buttons
70-100g (3.5oz) white chocolate buttons
70-100g (3.5oz) strawberry chocolate buttons (I found these in the baking department in Tesco)
---
Method:
To make the strawberry/vanilla layers of this neapolitan cake, preheat the oven to 170°C/fan oven 150°C/325°F. Line two 7-inch cake tins with greaseproof/parchment paper, and grease with a little butter.
Mix the butter, sugar, baking powder and salt together until they form a crumb-like consistency. Much easier to use an electric whisk! Separate this equally into two bowls.
In a jug, mix together half of the milk, one egg and the vanilla extract. Gradually add to one of the bowls of mixture, whilst beating it, to form a smooth batter. Mix in a little pink food colouring. The cake will lose some of the colour when it cooks, so make it slightly brighter than you want it to end up, but don't go crazy! You're aiming for a pastel pink colour once it's cooked.
Wash out the jug, then use it to mix together the remaining milk, egg and all the milkshake powder. Add to the other bowl of mixture using the same method as the vanilla one. Spoon the mixture into the two tins and bake for 20-25 minutes or until the sponge bounces back when lightly touched.
Leave to cool slightly, then remove from the tins and leave to cool on a cooling rack.
To make the chocolate layer of this neapolitan cake, preheat the oven to 170°C/fan oven 150°C/325°F. Line a 7-inch cake tin with greaseproof/parchment paper – no need to grease this one.
Sift the dry ingredients together in a mixing bowl, then add the rest of the ingredients. Beat for 2 minutes
Pour into the tin (it is a runny mixture!) and bake for 20 minutes, or until a cocktail stick inserted into the cake comes out clean
To decorate this neapolitan cake, make butter-cream by softening the butter in a large mixing bowl and gradually sifting and stirring in the icing sugar. Try not to turn the whole kitchen white like I did!
If your mixture gets too thick, stir in 1tbsp boiling water. Keep tasting, and stop adding the icing sugar when it is sweet enough for your tate. You'll use lots of icing sugar – remember, you need enough to make a three tier cake!
Take the greaseproof paper off of all the cake layers. Place the chocolate layer onto a cake board. Spread a thin layer of buttercream on the top, then add the vanilla layer. Spread a thin layer of buttercream on the top, then add the strawberry layer
Cover the cake with most of the remainder of the buttercream, remembering to do the sides evenly so that buttons will stick. Save a bit of buttercream to decorate the top, if desired.
Add chocolate buttons to the edges of the cake first. I did two rows of milk chocolate, two rows of white chocolate and then two rows of strawberry chocolate. TIP: Use the more expensive, branded chocolate buttons – they'll taste much better than the cheaper alternatives!
Decorate the top of the neapolitan cake. I used a combination of buttons and piped buttercream. I mixed half the reserved buttercream with some pink food colouring, and used a Lakeland Duo Colour icing bag
EAT IT!