Pecan and Ginger Cake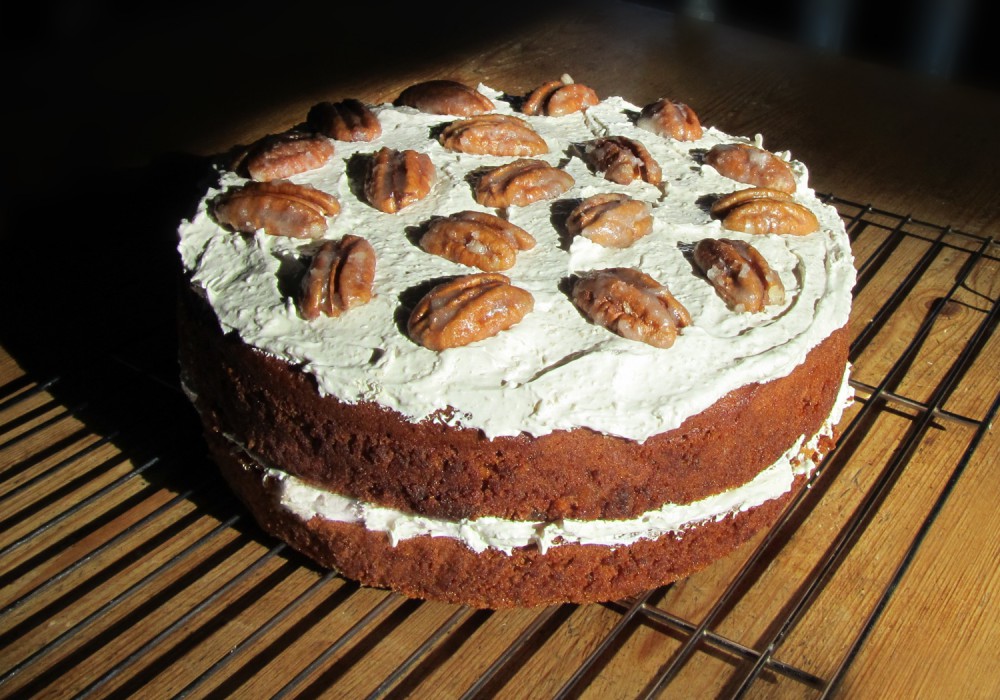 Ginger is something of an acquired taste and under normal circumstances I'd probably not have made this cake, but as the whole point of 12cakes.com is to make me challenge myself both in the amount of cakes I bake, and also the types of cake, I figured that this was worth a go! Evidentially the god-of-cake (Not 100% sure if this is an actual god, but if I'm going to worship any deity that may or may-not exist, then the god-of-cake is about as good as any!) was smiling on me as this pecan and ginger cake was surprisingly nice.
Ginger is quite a strong flavour, so I'd only advise making this cake if you're a fan of it, but for those that do decide to use this pecan and ginger cake recipe, a slightly hot, fragrant, spiced treat awaits you! The pecan nuts are a good contrast to the ginger as they help to offset its strong flavour and provide a nice crunchy texture next to the soft sticky pieces of ginger and the icing is well worth a try if all you're used to making is buttercream, but make sure to use an electric whisk as I can't imagine being able to get such good results from doing it by hand!
---
Ingredients
200g. self-raising flour
4 tsp ground ginger
1 tsp baking powder
1/2 tsp salt
200g. butter
350g/ golden syrup
100g. light muscovado sugar
4 eggs, beaten
100g. peacans, roughly chopped
100g. crystallized ginger, chopped
For the Topping and Decoration
175g. golden granulated sugar
1 egg white
Pinch of cream of tartar
85g. sugar
100g. pecan halves
---
Method:
Preheat the oven to 180°C/Gas Mark 4/Fan oven 160°C. Butter and line the base of two 20cm/8in cake tins. Sift together the flour, ginger, baking powder and salt. Rub in the butter until it resembles crumbs.
Beat in the syrup, sugar, eggs, pecans and ginger. Pour into the tins and bake for 45 minutes until firm. Cool in the tins for 10 minutes, then turn out on to a wire rack.
Put the golden sugar, egg white, cream of tartar and 2 tablespoons of hot water into a bowl set over (not in) a pan of simmering water. What this should achieve is the dissolving of the sugar crystals without warming the mixture too much! beat for 10 minutes. Layer the cakes with a little icing; spread the rest over the top and sides.
For the pecan decoration, heat the sugar with four teaspoons of water until dissolved, then boil until it forms a caramel. This might not always turn into something that is traditionally caramel coloured, so it's best to go by the thickness of the mixture. Still in the pecan halves, cool on an oiled baking tray, then use to decorate the iced ginger and pecan cake.