Pistachio Loaf Cake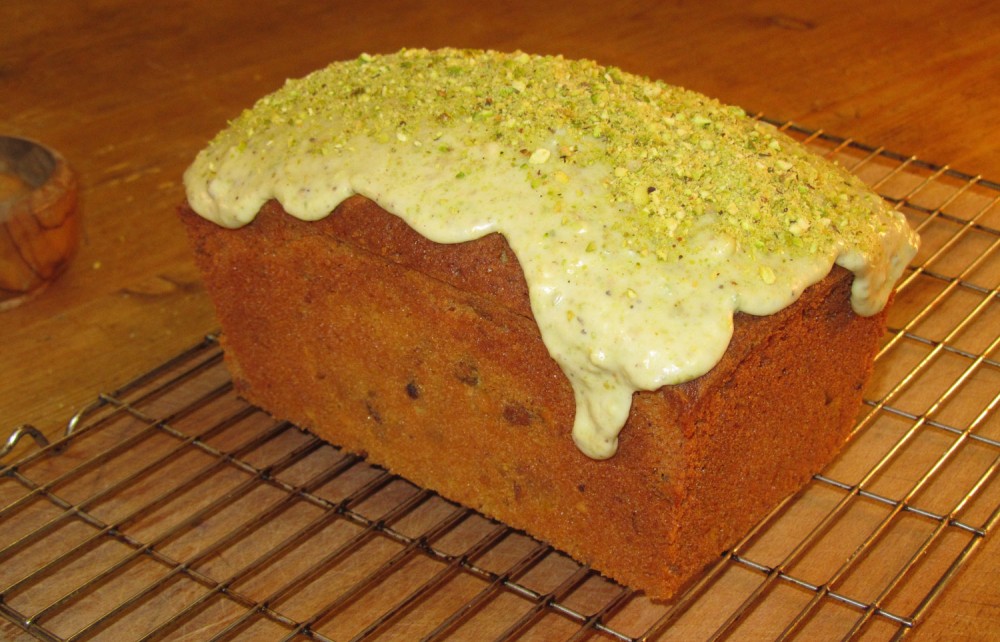 So here we are, the twelfth cake of the 12 cakes project! I always wanted to bake a loaf cake for this site but never got round to doing one, until now. I'm also aware that Christmas is just around the corner so wanted to do something that fits in with that, but at the same time wasn't a traditional Christmas cake. I decided on this Pistachio Loaf Cake as nuts are always associated with Christmas and the lovely green colour of the ground pistachios really stands out against the white glaze on this moist and delicious loaf. If you want to try making your own then check out the pistachio loaf cake recipe below.
---
Pistachio Loaf Cake Ingredients
For the Sponge
190g (7oz) unsalted butter, softened, plus extra for greasing
190g (7oz) plain flour, plus extra for dusting
190g (7oz) caster sugar
3 large eggs
1 tsp baking powder
¼ tsp salt
25ml (1fl oz) soured cream
1 tsp vanilla essence
100g (3½oz) shelled pistachios, roughly chopped
For the Glaze Icing
120g (4oz) icing sugar
40g (1½) ground pistachios – can easily be made from whole pistachios put into a food processer
---
Method:
Preheat the oven to 170°C (325°F), Gas mark 3, then grease a 8.5 x 17.5cm (3½ x 7in) loaf tin which has 7.5cm (3in) sides, with butter and dust with a little flour.
Using a hand-held electric whisk or a freestanding electric mixer with the paddle attachment, cream together the butter and sugar until pale and fluffy. Add the eggs one at a time, mixing well after each addition and scraping down the sides of the bowl to make sure all the ingredients are properly mixed together.
Sift together the flour, baking powder and salt, then add to the creamed mixture in two batches and mix on a low speed until just incorported. Add the soured cream and vanilla essence, then stir in the chopped pistachios by hand.
Pour or spoon the pistachio loaf cake batter into the prepared tin, then place in the over and bake for 1 hour or until th sponge feels firm to the touch and a skewer inserted into the middle of the loaf comes out clean, with no uncooked batter sticking to it.
Allow the loaf to cool a little in the tin, then turn out on to a wire rack to cool down fully before adding the glazing icing.
Place the icing sugar in a bowl, add 2 tablespoons of water and mix together. This will form a fairly runny paste; if the glaze seems too thick, add a little more water to thin it – ¼ teaspoon at a time. Stir in the ground pistachios, keeping a small amount aside to sprinkle on top. Pour the glaze over the cooled pistachio loaf cake and then sprinkle with the remaining ground pistachios.