Sticky Toffee Cheesecake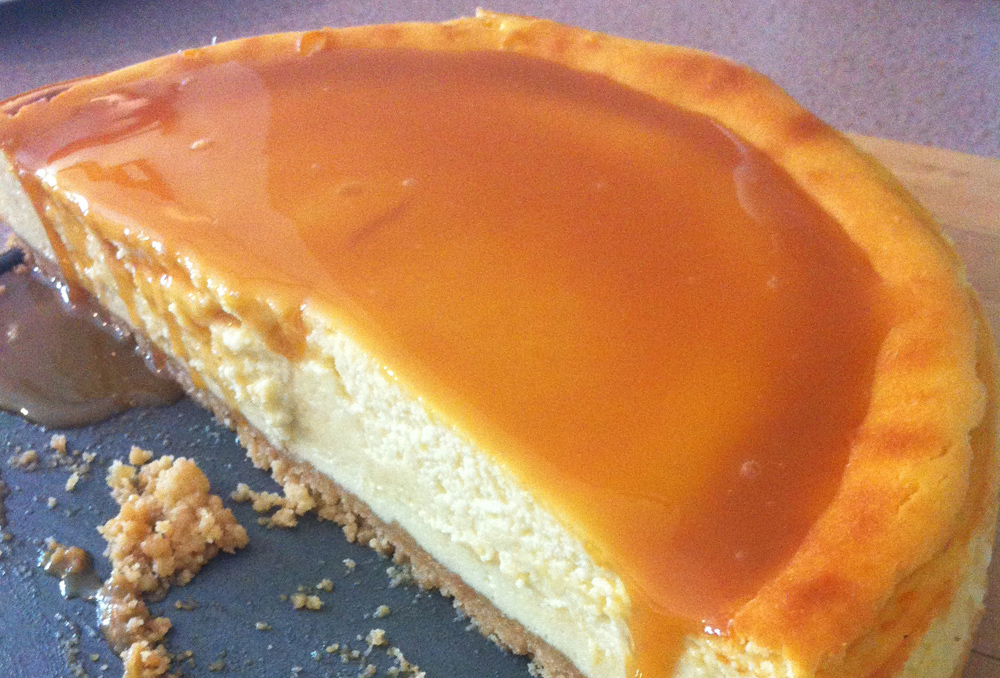 There's a couple of things that are special about this month's cake – one is that it's the first cheesecake to be featured and secondly is that it was cooked in the design studio where I work without the aid of standard kitchen utensils such as a mixing bowl and any sort of measuring equipment!
To compensate for the lack of a mixing bowl, the biscuits were put straight into the baking tin and beaten with a hammer….yes, a hammer as we didn't have anything better to use! The rest of the ingredients were put into a wok that we had and mixed as best as we were able, which was surprisingly good. Maybe mixing bowls are overrated!
There was just enough white chocolate to go into the mix which meant having to exercise lots of self-restraint to not pop a chunk into my mouth while breaking them into pieces! Lacking measuring equipment such as scales meant that all the ingredients were done using guesstimates at best so I was slightly anxious to see how this cheesecake fared once we'd slid it into the oven! Luckily this turned out to be one of the easiest and tastiest cheesecakes I've ever made, so despite our kitchen's shortcomings, it turned out lovely and I think this recipe (minus the toffee) will now be my basic starting point for all future cheesecakes. If you want to try and make your own then check out the sticky toffee cheesecake recipe below.
---
Ingredients
8 shortbread fingers or biscuits
50g. butter, melted
600g. cream cheese or curd cheese
100g. golden caster sugar
3 tbsp plain flour
2 tsp vanilla extract
3 eggs
142ml. pot of soured cream
300g. white chocolate, melted
225g. jar of caramel or dulce de leche
---
Method:
Heat the oven to 180°C/fan 160C/gas 4. Put all of the biscuits into a bowl and crush them into small crumbs, stir in the butter and press the mixture into the base of a 20cm round tin. Bake for 10 minutes then cool. Turn the oven down to 140°C/fan 120°C/gas 1.
Beat the cream cheese with the sugar, flour and vanilla. Add the eggs, soured cream and chocolate and combine. Sprinkle the hard caramels over the biscuit base, pour the cheesecake mixture carefully on top and bake for 40-50 minutes, the filling should still have a slight wobble when it is cooked. Cool and then spread a layer of caramel on top.