Sweet Dough Lemon Loaf Cake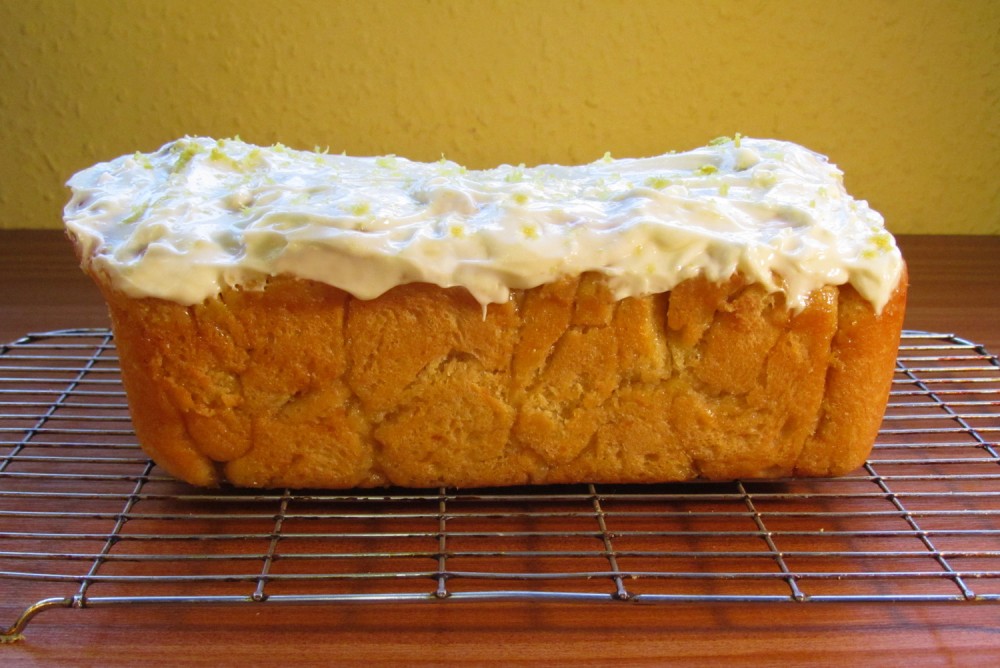 When life hands you lemons, the best thing to do is use them to make a yummy cake, obviously! In my experience, everyone seems to love a lemon cake and this sweet dough lemon loaf cake is extra special as it's a cross between bread and cake with a wonderfully tangy lemon icing to make it extra zesty!
One word of warning is that this is not a cake that you can make in 5 minutes. It takes a serious amount of time and effort to get it right, but rest assured that it is most definitely worth the extra effort when you can finally cut yourself a slice that's still warm and bite into it, tasting the sweet, tangy lemon flavour!
I discovered the original recipe for this lemon cake in the new cake book by the Hummingbird Bakery called Home Sweet Home. It's a lovely little book that's worth adding to your collection.
Why not try baking your own sweet dough lemon loaf cake? It's the perfect thing to make when there's some warm weather so you can enjoy a slice when you're sitting outside with a lovely cuppa tea!
---
Ingredients
For the sweet dough
75ml (2½fl oz) lukewarm whole milk
60ml (2fl oz) tepid water
½tsp salt
50g (1¾oz) caster sugar
2¼ tsp dried active yeast
350g (12oz) plain flour, plus extra for dusting
55g (2oz) unsalted butter, plus extra for greasing
2 large eggs, beaten
2tsp vanilla extract
For the filling
60g (2oz) unsalted butter
100g (3½oz) caster sugar
The grated zest of 3 lemons
For the tangy lemon icing
90g (3oz) tub soft cheese (such as Philadelphia)
40g (1½oz) icing sugar
1 tbsp whole milk
---
Method:
To make this sweet dough lemon loaf cake, grease a 900g (2lb) loaf tin with butter and then lightly dust it with flour. In a small jug, mix together the warm milk, water, salt, 1 teaspoon of the sugar and the dried active yeast. Set this aside to ferment for about 30 minutes or until it forms a foam on the surface.
In a large mixing bowl, mix together the flour and remaining sugar and make a well in the centre. Melt the butter in a microwave or put it in a small pan and melt on the stove. When the yeast liquid is ready, add the eggs, vanilla extract and melted butter to the yeast mixture.
Pour the liquids into the centre of the dry ingredients and mix together using a wooden spoon to form a dough. Turn the dough out onto a lightly floured surface and knead for approximately 5 minutes or until the dough is smooth and even.
Place the dough in a lightly floured bowl, cover tightly with cling film and allow to prove in a warm place. This should take about 40 minutes or until the dough has doubled in size.
While the dough is proving, make the lemon sugar filling. Melt the butter in the microwave or on the hob and then, in a medium bowl, mix the sugar, lemon zest and melted butter together. Set this aside for later use. Try and keep it somewhere warm so that the butter doesn't set.
Once the dough has proved, remove it from the bowl. Gently knock the dough back. Roll it out on a lightly floured surface until it is about 30 x 38cm (12 x 15in). Using a sharp knife, cut the dough lengthways into four equal strips.
Using a pastry brush, coat each strip with the lemon sugar filling. Carefully lift the strips and pile them neatly one on top of another, and then cut the pile of strips into six equal square stacks. Carefully lift each stack and place it into the tin, cut side facing up. Place each stack next to one another to fill the length of the tin, packing them together like a sliced loaf.
Wrap the tin in cling film and set it aside for the dough to rise again. This should take approximately 30-40 minutes or until the dough has doubled in size.
Preheat the oven to 170°C (325°F), Gas mark 3 and bake the loaf for approximately 30-35 minutes or until it's an even golden brown. Set the finished sweet dough lemon loaf cake aside to cool slightly.
To make the lemon cream cheese topping, use an electric whisk to mix the cream cheese and icing sugar together just until smooth. Add the lemon juice, zest and milk. Mix well until creamy and smooth.
Once the loaf has cooled slightly, remove it from the tin and top with the lemon topping, scattering over the extra lemon zest to finish. This sweet dough lemon loaf cake is best served warm or at room temperate. It doesn't keep for long so it's best eaten on the day of baking.