White Chocolate and Raspberry Cheesecake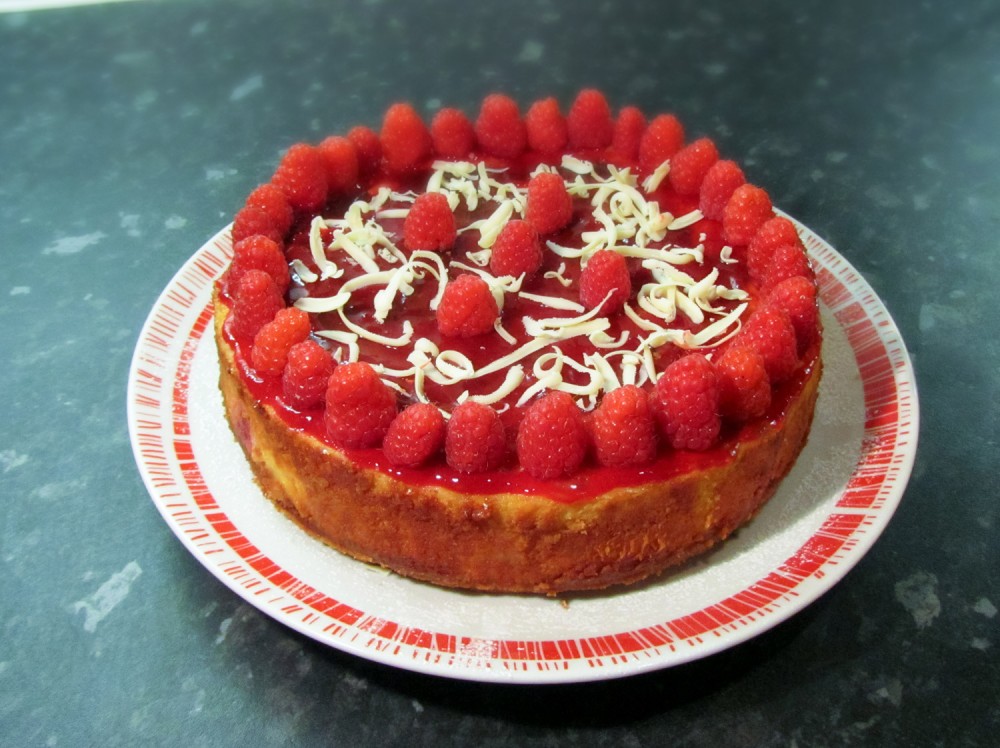 White chocolate and raspberry cheesecake is something that I kept getting asked to bake, and with my garden bursting with succulent fresh raspberries it felt like there was never going to be a better time to make one than right now!
I didn't have a recipe for a white chocolate and raspberry cheesecake in any of my cake books (Incidentally, I really need this cheesecake book), so before I made it I started looking around at other raspberry cheesecake recipes on the net. Most of them seemed to favour making the cheesecake using a 'no bake' method, which as the name suggests, you don't actually bake. I was a bit dubious of making a white chocolate and raspberry cheesecake like this as I was afraid that the raspberries would make the mixture too runny and stop it setting properly, so I ended up making up my own recipe using a combination of different cheesecake recipes that I'd found.
I'm pleased to say that my cobbled together recipe worked rather well, producing a white chocolate and raspberry cheesecake that was very yummy and the fresh raspberries I'd used as decoration on top added a lovely flavour! The perfect dessert for serving during this all-too-rare hot British summer!
Why not try baking your own white chocolate and raspberry cheesecake?
---
Ingredients
For the Cheesecake Base
200g (7oz) shortbread biscuits
100g (3½ oz) ginger biscuits
75g (2½ oz) melted butter
For the White Chocolate and Raspberry Cheesecake
600g (21 oz) tub of cream cheese (such as Philadelphia)
2 tbsp plain flour
175g (6 oz) golden caster sugar
1 tsp vanilla extract
3 free range eggs
300g (10½ oz) fresh raspberries
150g (5 oz) white chocolate, melted
50g (1½ oz) white chocolate chunks
For the Glaze Topping
4 tbsp icing sugar
50g (1½ oz) of fresh raspberries
---
Method:
To make this white chocolate and raspberry cheesecake, preheat the oven to 180°C/fan oven 160°C/Gas 4. Butter and line a 20cm/8in round cake tin. Place the biscuits in a polythene bag and crush them into crumbs with something heavy like a rolling pin. Press this mixture into the cake tin and bake for 5 minutes and then cool.
Put the cream cheese into a bowl and break it up with a knife or a fork. Beat together the cream cheese, sugar, flour, eggs and the vanilla flavouring until smooth. Melt the white chocolate in a bowl over a pan of boiling water or in the microwave, then add it to the cheese mixture and mix it through. Pour in the raspberries and gently fold them into the mixture.
Bake for around 45 minutes in your pre-heated oven and then check – the white chocolate and raspberry cheesecake should be set but still be slightly wobbly in the middle. This is expected, so leave it in the tin to cool completely, then chill for at least 3 hours (preferably overnight)
After the cheesecake has finished cooling and you're ready to serve it, put most of the remaining raspberries in a pan with 4 tbsp icing sugar (keep a few aside). Heat and stir the mixture until the raspberries have turned into a sticky juice and then push through a sieve with a fork. Pour this raspberry jam over the top of the white chocolate and raspberry cheesecake and decorate using the last remaining raspberries.