Oreo Chocolate Brownie Cheesecake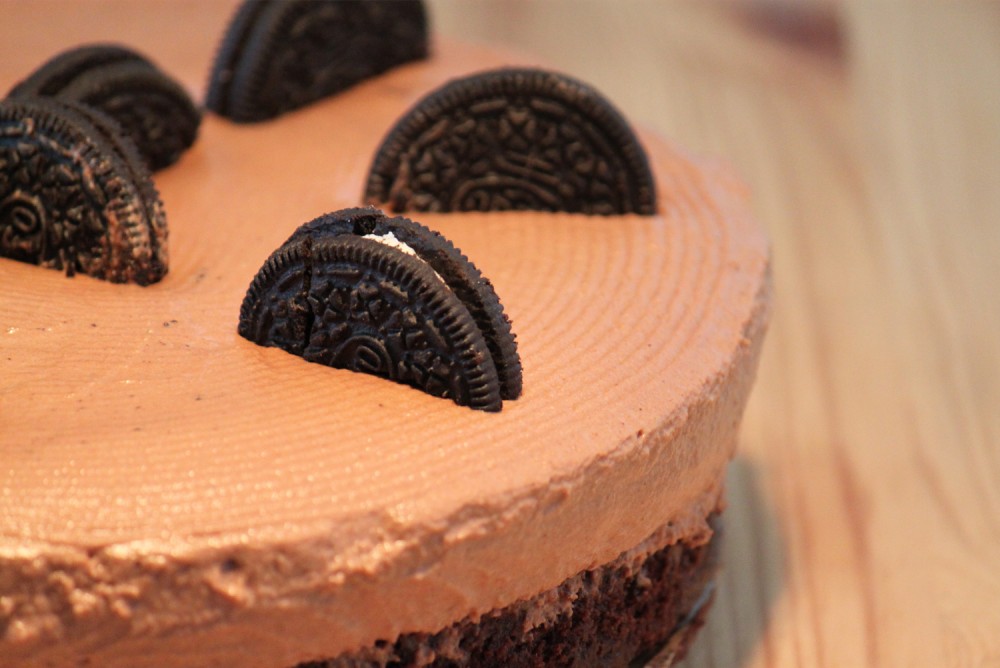 So far, all of the cakes that I've made for this website have been largely down to my own preference, but this month's cake was chosen by someone I work with, as I'd promised them a cake in return for a little bit of help when I was building this site's homepage. The cake chosen was an Oreo Chocolate Brownie Cheesecake. My first thoughts on this was that combining Oreo's, cheesecake and brownie might be a sugary/sweet overload, but I wasn't about to let that put me off as I've yet to find anything with Oreo's in that doesn't taste great!
I mentioned in last month's cake intro about how I'd managed to avoid any major disasters…that proved to be tempting fate a bit too much as during the baking of this chocolate brownie cheesecake, I had not one but two mini disasters. The first was due to me using a 9" cake tin that I'd never used before, which had a weird removable base that I discovered leaked. Of course I only realised this after I'd put the brownie mixture in it and had left it baking in the oven. Luckily the mixture had stopped leaking as it hardened so I still had enough brownie base to continue without starting again. The same cannot be said for the cheesecake layer! I'm not sure why but when I was mixing the cream in with the cream cheese it just wouldn't set. It never even started going thick for one second, so I had to go out and buy a different lot of cream and start again. Luckily the second attempt turned out fine, and the Oreo Chocolate Brownie Cheesecake tasted delicious.
It's perfect for eating on a hot day if you serve this straight from the fridge, as the thick layer of cheesecake is really cooling, like an ice-cream. So if you like Oreo's, chocolate brownies and cheesecake then you need to try this out, you won't regret it!
---
Ingredients
Brownie Layer
227g of unsalted butter
95g of cocoa powder
347g of sugar
125g plain flour
4 large eggs at room temperature
2 teaspoons of baking powder
½ teaspoon of salt
Cheesecake Layer
14 Oreo cookies
168g of dark chocolate, chopped
2x (225g) tubs of cream cheese, at room temperature
100g sugar
1 teaspooon vanilla
297g of whipping cream (can use double cream instead, if you're careful not to whisk it too much)
---
Method:
For the brownie layer base preheat the oven to 350°F. Grease a 9" springform cake tin and line the bottom and side with baking paper. You can use a non-springform tin, but it increases the risk of the brownie sticking to the sides.
Melt the butter and pour it into a large mixing bowl. Sift the cocoa into the butter and stir in the sugar. Add the 4 large eggs to the mixture, blending well after each addition. Finally add the teaspoons of vanilla and still in well.
In a separate bowl combine the flour, baking powder and the salt. There's no need to sift the flour. Once it's been combined, add the cocoa mixture and blend together gently. Pour this finished brownie mix into the prepared cake tin and bake for about 35 to 40 minutes. Once it's finished cooking, it needs to be left to cool completely before the next step. If you're in a hurry then you can speed up this process by putting it in the fridge.
For the cheesecake layer, lay 8 of the Oreo cookies in a circle on top of the cooled brownie base. Melt the chocolate, either by placing it in a bowl that's been put into a pan of boiling water or just gently microwave it if you're lazy like me!
Add the cream cheese into a large mixing bowl and then beat it until it's fluffy by using an electric mixer. Slowly add sugar while mixing and then beat in the vanilla. Pour the whipping cream in and whip on a high speed until the mixture become firm and can hold a peak. If you're using extra think double cream instead of the whipping cream, be careful not to over whip it. Add the melted chocolate and blend together quickly. Pour this cheesecake mix onto the chocolate brownie base, spread it out so that it's level and even, then cool for at least 2 hours before slicing.
Garnish with the remainder of the Oreo cookies – You can do this however you like, but I decided to cut mine in half and push them gently into the cheesecake topping so that they were all facing towards the centre of this chocolate brownie cheesecake.